🔹Unveiling the first industrial scale sample of vanadium battery using Nafion membranes made by Iran Polymer and Petrochemical Institute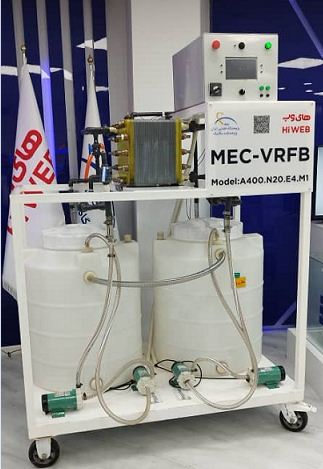 <!______[if gte mso 9]____> <!____[endif]______><!______[if gte mso 9]____><!____[endif]______><!______[if gte mso 9]____> <!____[endif]______><!______[if gte mso 10]____> <!____ /* Style Definitions */ table.MsoNormalTable {mso-style-name:"Table Normal"; mso-tstyle-rowband-size:0; mso-tstyle-colband-size:0; mso-style-noshow:yes; mso-style-priority:99; mso-style-parent:""; mso-padding-alt:0cm 5.4pt 0cm 5.4pt; mso-para-margin-top:0cm; mso-para-margin-right:0cm; mso-para-margin-bottom:8.0pt; mso-para-margin-left:0cm; line-height:107%; mso-pagination:widow-orphan; font-size:11.0pt; font-family:"Calibri",sans-serif; mso-ascii-font-family:Calibri; mso-ascii-theme-font:minor-latin; mso-hansi-font-family:Calibri; mso-hansi-theme-font:minor-latin; mso-bidi-font-family:Arial; mso-bidi-theme-font:minor-bidi;} ____> <!____[endif]______>
The first industrial scale sample of vanadium battery using Nafion membranes manufactured by Electro Kimia Bespar co under the license of Iran Polymer and Petrochemical Institute was unveiled at the Iranian Space Research Center.
Vanadium batteries are considered as one of the advanced technologies in mass energy storage systems, which are made in Electro-Kimiya company to provide Nafion membranes required for use in these batteries.
These membranes are completely competitive with foreign made samples and have the same performance their foreign made rivals. Therefore, in the first stage, the membranes produced were used for laboratory, bench and then industrial scale samples of this battery.
Close